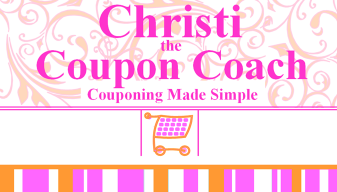 Ever clip coupons, but wonder if there is any way you can use them to greater effect? In comes Christie the Coupon Coach with her book, Couponing Made Simple. Christie says her process is "Not extreme, but Real couponing for Real people"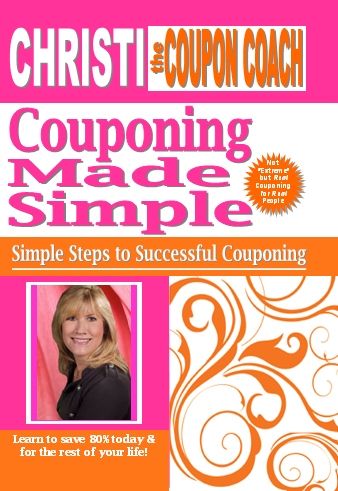 Couponing Made Simple is a step-by-step guidebook on how to coupon well. Christi breaks down the steps it takes to be effective. From sorting, to organizing, to shopping, you can learn a simple down to earth system.
Christie Bassford aka Christi the Coupon Coach
$18 physical book and $4.99 Kindle book both Available on Christi's Website Christi the Coupon Coach
All Ages
ClarkClan Experiences
How well did this system work for me? Well, I have had mixed results. I learned a few new tips and ideas I had never thought of before. But, there was also advice that just would not work where I live.
A little bit about where I live. I live in a fairly small town, it has a grocery store, a super Wal-Mart and a military commissary. Since my husband is retired military, I use the commissary frequently as well as Wal-Mart as my second choice. The local grocery store is my third choice, mainly to buy homemade flour tortillas. The next bigger cities from us are 70 and 90 miles away, not very feasible to shop there frequently.
The other reason that I am not able to use a large amount of coupons is because of the way we eat. We are slowly switching to a whole food, non processed type of diet. This means I buy a lot of fresh fruits and vegetables and very little boxed or canned items. So for the most part, the coupons that work best for our family are for toiletries, craft, clothing and other non-food type items.
I liked the way Christie gave step-by-step instructions for following her system. It spells everything out in detail and is easy to understand. I like that she gives advice on where to find coupons, not just in the Sunday paper (which is a big part of couponing) but also coupons can be found on the internet and magazines or directly in stores. The organizational system is very well laid out and easy to follow.
Recommendation
I have a mixed recommendation. If you do not use any coupons at all this book may be a great thing for you. It will teach you a simple coupon system you can use almost anywhere you live. If you already coupon effectively, this may not be a needed book for you.
Many of my Crew Mates also reviewed Christi the Coupon Coach, Couponing Made Simple. Visit the Crew Blog and read what others thought about the book.