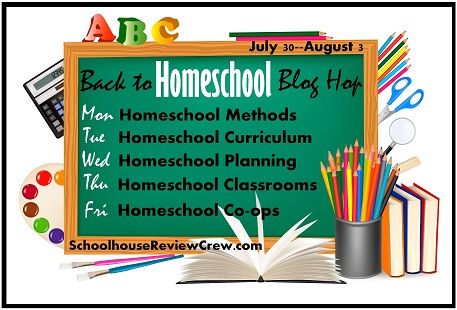 Today for the Back to Homeschool Blog Hop we are talking about Curriculum. I can guarantee that if you get two or more homeschool moms together, you are going to talk about curriculum. It is inevitable. What works for your family? What does not work for you? What do you kids like? What do your kids dislike?
Because I have been homeschooling for 11 years and have been reviewing products for The Old Schoolhouse Magazine for over 2 years now, I have a lot of different curriculum choices. I still have my favorites, but I am finding new favorites all the time. It can be so hard to make choices over what is the "best". I like being able to find products that work well for my kids, conversely some I thought would be great, flopped. So I thought I would tell my favorites for my kids, some we will be doing this year, some we have done in the past.
Bible
We start our school day with prayer, devotions and a short worship time. I pretty much exclusively use the Lutheran Service Book Hymnal with it's Form for Morning Prayer, Devotions come from Higher Things and Catechism study comes from Luther's Small Catechism. I try to teach the kids one new hymn a week. We sing out of the hymnal and I go over any unfamiliar words and phrases. We have a time of prayer and then begin our day. This year we may have to change things around just a little. I am going to an exercise class that meets in the early mornings. So I am thinking the days that I am in exercise, we will be using the Form for Afternoon Prayer and we will have our devotions at lunch. I also plan on having Ben and Rebekah use God's Great Covenant from Classical Academic Press. I reviewed it this Spring, loved it, but wanted to wait until the Fall to start it again and order Rebekah her own workbook.
History
I began with Sonlight the first year I brought Matthew home. We have used Sonlight as the main core pretty exclusively. We do not always finish a Core program in a year, but just keep plugging away until it is finished and then start the next one. This year Sarah will be starting 20th Century World History. I am excited by this because I had a good time going through the program with Matthew a few years ago. With Ben and Rebekah, I will be picking up at about week 19 of Intro to American History Year 2. Ben is very excited because we are just about to start studying the World Wars.
Math
My favorite math programs are Math U See (MUS), Life of Fred, and now Pearson Homeschool. I love Math U See and use it as the main math program for Ben and Rebekah. They are progressing nicely with it and have no troubles with math. Sarah used MUS until Algebra I. She began to have a little trouble with it and so we switched programs. In hindsight, she would have done fine if I had done Pre-Algebra instead of jumping her ahead to Algebra, but it is what it is. So she used Life of Fred for Algebra I and loved it. Then we reviewed Pearson Homeschool Algebra II and she liked that as well. We will be continuing with Pearson Homeschool Algebra II this Fall. Ben will be in MUS Epsilon and Rebekah is doing their Delta program. I also love Calculadders for drill practice.
English/Writing
I have used various things for English. From Rod and Staff to Spectrum workbooks, to just using their own writings to teach concepts. I have come to love Write Shop, Institute for Excellence in Writing (IEW) and Analytical Grammar. Sarah will be completing Analytical Grammar this year as well as using IEW for her writing program. For vocabulary I have found that we love English from the Roots Up. Not fancy, takes a little work to implement, but very effective. For Handwriting for Ben and Rebekah, will continue to use Presidential Penmanship for extra handwriting practice.
Foreign Language
Latin has been the main foreign language that our family has studied. Sarah is the one who said she wanted to study Latin and then over a year ago, we were able to review three different Latin programs. Sarah has settled on Memoria Press and their First Form Latin program. I had not done anything with Latin for Ben and Rebekah until we reviewed Visual Latin. They absolutely loved and still love this program. The teacher, Dwane Thomas, is funny and very engaging. We plan on continuing our Visual Latin lessons this Fall. But we are also contemplating adding in Spanish lessons. We just finished reviewing Homeschool Spanish Academy and were quite impressed with the program. Now to see if we have the time and money to add this in to our schoolwork load.
There are our five "big" topics. I will also add in here and there to round out with certain subjects such as art, music, some fun unit studies etc. Most of our additions involve items that we are reviewing, some we love and add into our day right away. Other products I love and after the review put it away until later and some we just do not use again at all, even if they were good I have found as much as I want, I can't do it all.
Be sure to visit the blogs below and see what they have to say about curriculum. Just like no two snowflakes are exactly alike, no two homeschool families are exactly alike.