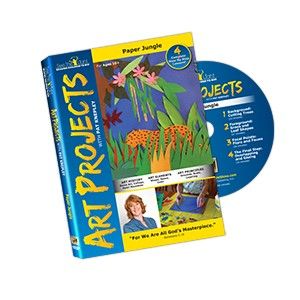 See the Light Art Projects
Paper Jungle – In the style of Henri Rousseau
Designed for ages 10+
Lessons taught by Master Artist Pat Knepley
$14.99 per DVD or all 9 Art Projects DVD's for $99.99
About the Product
See the Light is a company that is dedicated to bringing Biblical principles and scripture to students. They employ a variety of techniques, the foremost being art instruction. Using different specialty artists and musicians, they are able to engage students while teaching art skills.
We reviewed one of See the Light's DVD's from their Art Projects series. We were able to review Paper Jungle, In the style of Henri Rousseau. In four step-by-step lessons students produce their own masterpiece following the instruction of Master Artist Pat Knepley.
Paper Jungle takes one of Henri Rousseau'ss paintings and helps kids translate the painting into a collage. The DVD contains four lessons each approximately one and a half hours long. Art instruction is woven together with Art History and Biblical truths during each lesson.
The four lessons of Paper Jungle are: 1.) Background: Cutting Trees 2.) Foreground: Grass and Leaf Shapes 3.) Focal Points: Flora and Fauna 4.) The Final Step: Overlapping and Gluing
ClarkClan Experiences
Paper Jungle is geared towards kids ages 10 and up. I used this with Ben, who is 11, and Rebekah, who is 9 (10 next month). I found that both kids could complete the lessons with Rebekah needing just a little bit more of me sitting beside her talking her through various techniques.
Because this is a DVD, we would watch the first segment, then pause to do the work, then watch the next segment, and stop to work and so on until the lesson was over. Occasionally we would need to go back and re-watch a part. Our television set is in our living room, so I would set up tray tables for the kids to sit and work. The recommended pace for this DVD is one lesson per week. I used it a little differently.
The way we used the DVD was one lesson a day for an entire week. This worked well for us as a special school week. Instead of their usual morning assignments, we would work on the Paper Jungle DVD. The materials needed were easy to assemble. I liked that the list of supplies needed is included in multiple places, on the website and the back of the DVD. This made it easy to get the supplies before we started.
I liked listening to the chatter of my children as they were gluing their collage. Ben said, "Did you notice my falling leaves?" And, "Look, I made my tiger small and my banana's large, just like the scale Henri Rosseau used." Rebekah kept pointing out her details. "I put my sun behind the branches." "My horse has a long neck, but I like him that way."
Ben's favorite elements in his picture were the moon and the tiger. He said he had to re-do his tiger three times before he had one he liked. Rebekah's favorite element was her sun behind the tree.
The only problem that we ran into was that Rebekah would get frustrated that her drawing would not match the one on the DVD. We solved this problem by me sitting nearby while Ben and Rebekah worked and I could easily help when needed. Rebekah thought she needed to make it look exactly like the one on the video. When I explained that she did not have to copy Pat Knepley's work exactly, she became more relaxed and had fun with the project.
Recommendation
I would recommend this DVD and the whole Art Project DVD set to other parents. We enjoyed the lessons and for me, the best part of all was watching my children enjoy their art and be extremely proud of their finished products.
My Crewmates from the Old Schoolhouse Review Crew were able to review many of the See the Light art DVD's. Visit the Crew Blog to read what they have to say about their products.