Founded by Matthew Stephens
1st to 12th grades available
$40 DVD and download of Printable Worksheets $20 printed workbook (optional)
About the Product
Essentials in Writing is a full year grammar/writing curriculum. The goal of the program is "to help produce confident writers who enjoy the study of language." Students are taught how to effectively communicate through the written word.
Essentials in Writing is a program taught on DVD by Matthew Stephens. Mr. Stephens teaches each concept using a step-by-step approach. Worksheets and writing assignments then help to "cement" the concepts presented.
The building blocks for the elementary levels goes according to this format.
Letters=Words

Words = Sentences

Sentences = Paragraphs

Paragraphs are in personal/business letters, descriptive/expository/persuasive writing assignments, essays and research reports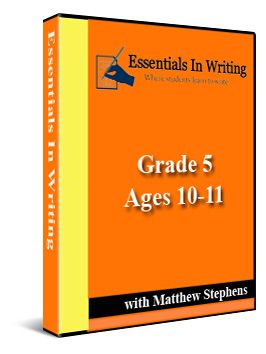 ClarkClan Thoughts
We reviewed the 5th grade level of Essentials in Writing. I was able to use this with both Ben (11) and Rebekah (9) at the same time. I would pull out the worksheets for each lesson, then we would watch the video, and finally they would work on the assignments.
The Fifth grade levels continues coverage of grammar, capitalization and punctuation. The writing skills portion includes formal paragraphs as well as, diary entries, invitations and lists. Students will also learn how to choose which form of writing is the most appropriate.
For the first three weeks we worked on the grammar lessons. Then for the next few weeks we worked on the writing portion of the program. While the writing will talk about previously learned grammar, it is not necessary to do all the grammar first, then the writing. Mixing it up did not confuse my kids at all. We would complete approximately three lessons per week.
Ben is doing a combination of 5th/6th grade work. Rebekah is a mix of 4th/5th grade work. So reviewing the 5th grade program worked very well for us. Ben would fly through most of the grammar lessons, only stumbling occasionally. Rebekah needed a little bit more help. She would watch the lesson, then work on the worksheet and I would be available for questions.
Both kids enjoyed Matthew Stephens teaching the lessons. During the writing portions, they asked and I agreed that they could work together on their writing assignments. It was interesting to hear the discussion that went on as they were exchanging ideas and what should come next.
The length of each lesson was good for us. Each video lesson is fairly short, 5-10 minutes, Then there is a worksheet page, maybe two. In all, the lessons took us approximately 20-30 minutes to complete.
Recommendation
If you have been searching for an easy to implement, low prep needed, complete grammar/writing course, I would recommend Essentials in Writing. It is a solid program that presents all aspects of language arts for each grade level.
All levels of Essentials in Writing were reviewed by the Schoolhouse Review Crew. Visit the Crew blog to read what others thought about the levels they reviewed.