Price: $16.95
Authors: MaryAnn F. Kohl and Jean Potter
Designed for Ages: Preschool through 5th grade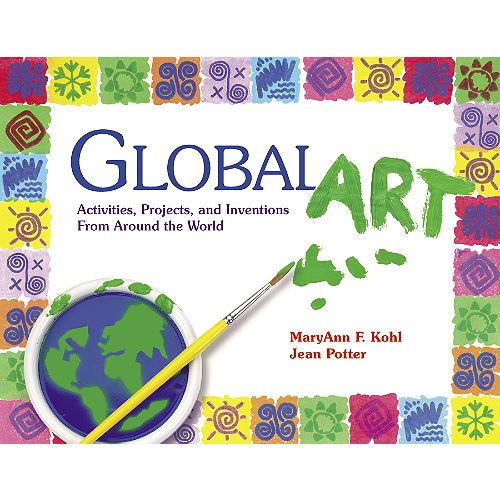 About the Book
Looking for a way to make geography or history more of a "hands on " subject? Global Art, Activities, Projects and Inventions from Around the World is more than just an "art" book. It makes geography and history come alive as kids are able to have a concrete hands on experience while traveling the world in their minds.
This book contains a variety of projects that range from painting, sculpture to cooking and simple sewing. There are over 135 art projects that explore the variety of cultures around the world. Every continent in the world is represented.
Each chapter focuses on a different continent. Within the chapter, multiple countries are represented. For each project, various icons in the upper corner of the page tell at a glance the experience level, the art technique used and how much planning and prep work is needed.
ClarkClan Experiences
We have only begun to scratch the surface of this art book. Rebekah, (10), Miriam (8), and I have been able to look through, plan and execute various art projects. I have been having the girls look through the book and decide on a project. Then I have them get our globe out and find the continent, and country. We read the fact about that country associated with the project and then get to work.
Their favorite project so far has been face painting from Africa. We learned how to make an easy to use, easy to wash off face paint. They have had so much fun with this. Making a drum decoration was also a hit. It about drove me crazy hearing the drum thumping and thumping. Miriam was very excited to see the project called Chamorro Mat Weaving as she just moved back from Guam and knew all about the Chamorro culture.
I really liked the use of the icons to quickly let me know what is needed and how involved the project may be. I also liked that some of the projects were food related. Making spinach egg dye is on our list to try as well as baking sandbakelser (sand tarts). I also found the instructions to be easy to follow. The variety of projects also impressed me.
Recommendation
I would recommend Global Art to any family with kids in elementary to Jr. high ages. The projects contained in the book will enhance any geography or history program and can be easily incorporated into any curriculum.

Many of my Schoolhouse Review Crew Mates reviewed Global Art as well as The HomeGrown Preschooler: Teaching Your Kids in the Places They Live. Visit the Crew Blog and read what they thought about these programs from Gryphon House.