e-Science Online Learning Program
Designed and taught by Aurora Lipper
Age Range: K-12
K-8 pricing: $37/month
K-12 price; $57/month
Visit the Supercharged Science page to watch a video on getting started.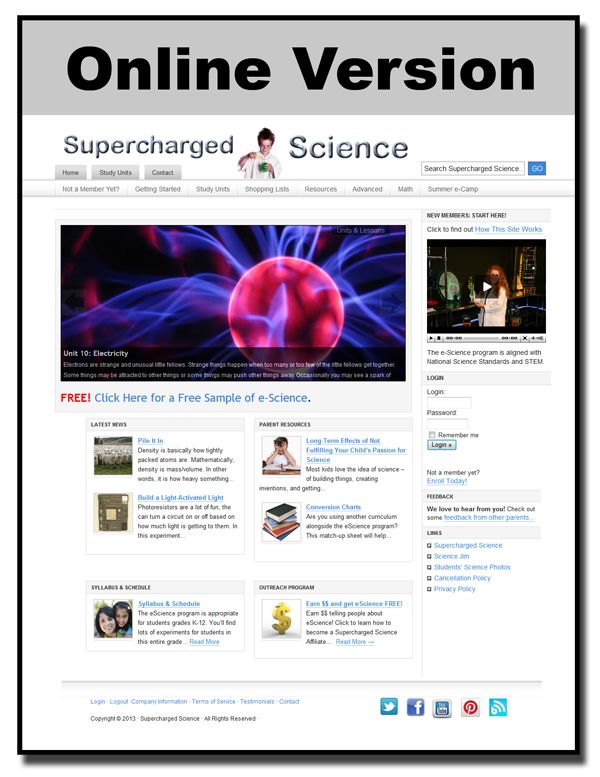 About the Program
Supercharged Science is an online science program that can be used with all grade levels, from Kindergarten through Twelfth grade. It contains over 20 topics (study units) and over 1,000 activities, experiments, and projects.
Supercharged Science is the creation of Aurora Lipper. Aurora is an accomplished Rocket Scientist. She received her Master's Degree in Mechanical Engineering from Cal-Poly State University and became one the youngest instructors in engineering at Cal-Poly State University. She noticed that her students seemed bored with science. She decided to investigate why, and decided to create her own set of physical science lessons for younger kids. These lessons have grown into an entire K-12 science curriculum.
Supercharged Science is an "inside out" program. Experiments are encouraged before starting in on the more mundane reading pages. This catches your kids attention and gets them wanting to know more.
For each unit, parents can download a PDF file containing lesson plans for that unit. These plans will tell you the approximate time the unit will take, which grade levels the experiments are suitable for, what materials are needed for the unit, vocabulary, experiments, activity pages and more. Also along with each unit are videos, many videos. These videos are of Aurora doing the experiments and talking you through each experiment and lesson. Supercharged Science covers both state standards as well as, STEM (Science, Technology, Engineering, Mathematics).
ClarkClan Experiences
Ben and Rebekah have enjoyed their time using Supercharged Science. We start just where Aurora suggests, with watching the introductory video for the unit we are working on. This video includes not only information about the topic being studied, but also fun experiments to watch. Then, we dive in and begin doing these experiments.
I print off the information pages and supply lists for the unit we are studying and have that available as we begin working on the experiments. Then the second day of the unit we would read some of the information included. The third day we would spend on more experiments and more reading. I tried to keep it fun and not get too bogged down in reading page after page of information. This approach worked well for us.
Ben and Rebekah seemed to really respond to the approach of experiments first, then reading about what they just observed. This is the opposite of how we usually approach science: read the information, then perform an experiment to see if what we read actually happens. By doing experiments first the kids usually ended up asking why something happened and then we could go and find the answer. Their curiosity was piqued and learning effortlessly followed.
Overwhelming is the word to use when you first log into the website. It is helpful to watch the introductory video where Aurora will explain how to use the site. Then just dive right in. You can go in order, or skip around. We used the skip around approach, so we could evaluate many different units. (And thanks, Aurora , my kids still drive me crazy with "the world's biggest parent annoyer" noisemaker.)
I think one of the neatest features of Supercharged Science, (besides Aurora, my kids loved her hair and enthusiasm), is that it is suitable for all grade levels, all at once. We reviewed the K-8 program. All your students of all levels can work on the same unit, at the same time. The younger ones will perform experiments and glean what they can from the reading or discussions. The older ones will be able to go more in depth the the information provided. If you have high school students, they will also have access to the K-8 program as well as the high school so they can go back and watch and maybe pick up on areas they didn't learn or comprehend while younger.
We performed many experiments while reviewing this program. I found them to be non-complicated and fun. The materials needed were not hard to find. Since the materials list is included in the lesson plans, it is simple to print that page off and start collecting what is needed. We have two pizza boxes in our garage because Ben and Rebekah want to make the Solar Oven they saw in one of the videos.
Recommendation
We have greatly enjoyed our time reviewing Supercharged Science. Even my husband,when he asked what review I was writing, said, "Oh, that was a good program. The kids really enjoyed it." He was able to participate in many experiments and see the kids excitement.
This program does involve a monthly subscription fee. For the K-8 program (what I reviewed) it is $37 a month. While this may seem a little high, it is worth the money for the information the program contains. Kids become excited about science and want to learn more.
Many of my Crew Mates also reviewed Supercharged Science. Visit the Crew Blog to read what they thought about the program.