Author: Mystie Winckler

Special offer: Until June 3, 2013, receive 30% off all books. Enter the code TOS2013 at checkout.
Simplified Dinners
I like to cook. I like to make a nice dinner. But, lately, it seems that all I can do is throw something together haphazardly or even just grab something ready made at the store or the kids favorite, cheap, taco place. This is where the e-book Simplified Dinners comes to the rescue.
Mystie Winckler has created a system to simplify the dinner planning/preparation process. It is not fancy. But it does provide a way to cook healthy, well-planned meals without much effort. The secret is in the master grocery list and recipes that can be adapted in multiple ways for variety.
The Simplified Dinners e-book starts off by giving the premise of the system. Then it introduces the master grocery list and ends with a wide variety of recipes with multiple variations.
The idea of the system is that you keep your pantry stocked with the items from your master grocery list. Then you make up a simplified menu naming a main dish and a side. This way you have a plan for dinner, but you also know you have all the ingredients without making a special trip or buying special ingredients.
I have used this system for over a month now. It is working very well. The Simplified Dinners e-book contains many recipes from Mystie Winckler. Her family must eat a lot like we do, so everything we tried was well-liked by my family.
During the first two weeks, I used the master list from the e-book exclusively. Then as I got used to using her system, I changed the list to reflect our eating habits. It is working just as well as the original and I plan to continue using this system until life slows down for our family.
Along with the Simplified Dinners e-book, Mystie Winckler also offers Simplify Dinners Gluten-Free, Dairy Free for $12.99 PDF.
Paperless Home Organization.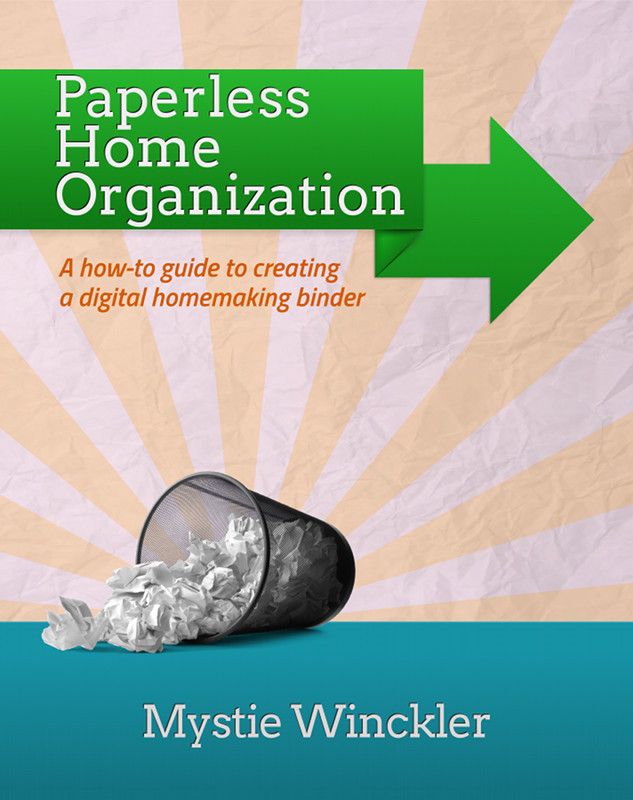 This next e-book from Mystie Winckler intrigued me from the first time I heard the title: Paperless Home Organization. I couldn't wait for the book to come in so I could see how she set up this system and decide if it was feasible for me.
I will admit, I have a lot of technical gear. I have a laptop, smartphone, e-reader, and more. I use all this technology, but I tend to get the feeling I could do more with it. This book showed me how, and it works!
I loved her detailed descriptions to help me set up my e-mail to make it work for me. Then I found a few new apps for my smartphone to help me while I am out and about and with my shopping list. Mystie introduces Evernote, an app for any smartphone that is the heart of the paperless system.
Evernote is easy to pick up, but also a very handy tool to use for organization purposes. My best use of this app came when I took it to a sports meeting at my daughter's high school. I was able to take pictures of the hand outs and file the digital work and then file it away in the Evernote system for retrieval when I need it.
Another app, Remember the Milk rounds out the program. All of these programs and apps work in sync to create a system of organization that is portable and easily retrievable from just about everywhere.
This e-book has opened my eyes to the vast uses of technology for my everyday life. No more missed appointments or forgetting what I need at the store. I am working hard at remembering to use the electronic tools and I am getting better.
Recommendation
I would recommend either of these books to others I know. They are practical and down to earth. I love, love learning how to use the electronic organization tools that I knew could work for me, but had no idea how to get started.
Many of my Schoolhouse Review Crew mates reviewed these products as well. Click on the banner below to read what their experiences were.