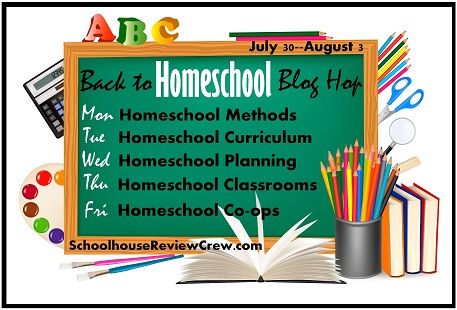 For the last day of the Back to Homeschool Blog Hop we are talking about Homeschool Co-ops. My first thought when I heard the topic was one of panic. I have never been a part of a co-op. I don't really know anything about them. But then I remembered that my friend and I are starting a small co-op, I guess you could call it, this Fall.
Stacy and I have decided to start meeting at church for a weekly writing class. She and I will be teaching the class with Stacy teaching one lesson over two weeks and me teaching a lesson for two weeks and so on. We are inviting another family to join us, if they would like. They will be new homeschoolers this Fall and we are trying to help them out as much as possible to make the transition smooth. All together there will be six kids, three boys and three girls ranging in age from 6 to 10. I think this is a perfect number to start.
After the writing class, we plan on letting the kids play together. Mostly this will be unstructured, but I may organize a few physical activities or games just for fun. My 15 year old Sarah may throw an art lesson in every so often.
We have asked our Pastor to lead a short devotion or science lesson the day we meet. He has done this before for private schools and seemed interested in doing this for us. I think it would be a great way for the kids to get to know Pastor better.
We also decided, to make it easier on all of us, that we would meet the same day as the kid's chime choir. We figured this way we will get everything done on one day and not have to make multiple trips during the week.
I am very excited by this new venture. I think it will be a lot of fun, both for the mothers and the kids. All the kids are quite excited by the prospect of knowing they will see their friends during the week. This is something I have been wanting to try, and now I have found just the right person to help me.