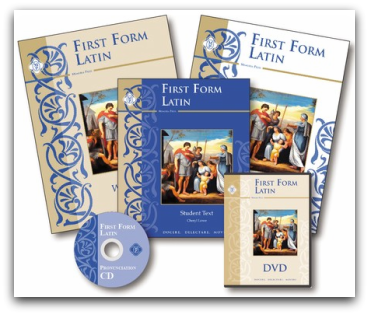 First Form Latin
by Cheryl Lowe
Published by Memoria Press
5th grade through High School
First Form Latin plus DVD's and flashcards – $115
First Form Latin is a beginning Latin program suitable for 5th grade through High School. It is equivalent to a full year of High School foreign language. It is a "grammar first" series focused on the trivium model of teaching grammar. The program goal is to teach grammar systematically which helps with retention and understanding of the language.
First Form Latin is designed for the student and teacher who has no previous Latin experience. It features a student text with 34 two-page lessons as well as a workbook with 4-6 pages of exercises per lesson. The teacher manual is a gem with the student text inset and answers in color. The teacher manual also has scripted oral recitations and grammar chalk talks. Pronunciation helps and vocabulary are also included.
This course has a wide age range. It is written for students from about 5th grade that have had previous Latin experience as well as older students with no Latin experience.
The First Form Latin set that we received for review included many items to make the program successful. In our package we had a 1.) Student Text 2.) Workbook 3.) Teacher Manual 4.) Teacher Manual Workbook and Test Key 5.) Quizzes and tests book 6.) DVD's of all lessons 7.) Pronunciation CD 7.) flashcards. The program is also available without the DVD's and flashcards for a cost of $55.00.
ClarkClan Thoughts
First Form Latin has been a hit with Sarah . One of Sarah's favorite parts of the program is the Latin Workbook. She has said multiple times to me how much she enjoys the workbook. I can see evidence of that since she is only missing 1 maybe two items when I check her workbook pages. She says she also enjoys the DVD's. She says the person doing the teaching on the DVD is funny and makes the DVD interesting to watch. Sarah is the kind of student that prefers to work on her own. First Form Latin is perfect for her. It needs minimal involvement from mom. I check her workbook pages, I will watch the DVD with her and then let her run with the lesson. Each day she brings me the workbook to correct. I also administer the tests and help if she has questions. The teacher books are very thorough, so if she needs help I can easily find the answer.
I think that if you have had previous Latin experience you could teach very well with the teacher's manuals without the DVD's. In my case, I loved having the DVD's to teach the subject. I do not speak Latin, nor have I ever studied it. Having the DVD's to hear how the language is supposed to sound was an excellent help.
After having finished the first few lessons, we are impressed with this Latin program. Sarah is really enjoying it and learning the vocabulary included in each lesson. I think she likes it because the text is not overwhelming and the workbook covers many different aspects without being too repetitive.
Visit the Memoria Press website to review sample pages of First Form Latin . Memoria Press also offers an Unconditional Guarantee with a full refund for 60 days.
Memoria Press has many different products available. They are a family run company that produces classical Christian education materials for homeschools and private schools. They offer classical curriculum for grades K-12.

We were not the only family to review First Form Latin. There were many other Crew Mates who reviewed the program as well. Visit the Crew Blog and read what they thought about the program.
As an Independent contractor for The Old Schoolhouse and member of TOS Homeschool Crew I received First Form Latin for free from Memoria Press , in exchange for my honest review of their product.