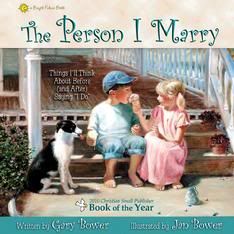 The Person I Marry, Things I'll Think About Before (and After) Saying "I Do"
written by Gary Bower
Illustrated by Jan Bower
Hardcover, 32 pages
$11.99
Available from Bower Family Books
"It's the 'Who' not 'What' that makes a great wedding". This is a quote from the first page of a book written and illustrated to teach children what to look for in a lifelong marriage partner. Written in verse, The Person I Marry explores the qualities that make for an enduring marriage.
Qualities such as kindness, hardworking, trustworthy, and patience are explored in depth. Beautiful illustrations capture the quality being described wonderfully. Each illustration features a young boy and young girl. I like how no two children look the same. To me, these children fulfill the beginning of the book that talk about how externals do not make a great marriage, but inward characteristics are the most important.
This book was a challenge to me as I read it. I originally thought, "this is too perfect," that we were teaching our children to look for a fairy tale prince or princess. One who was "too good to be true". But then I found myself thinking about the qualities talked about and wondering if I was living up to them. Do I not complain when the rain comes? Do I fully lend support to my husband to share his burdens?
My attitude changed the third time I read this book to my 8 and 10 year old, with the 14 year old listening. By reading about the excellent qualities to look for in a future spouse, my children can work now on being the type of person they would like to marry. Learning to be hardworking, trustworthy, or kind themselves ,will help them learn to recognize those high qualities in the one to whom they will give their heart. This book gives them a starting point to think about what makes a good mate.
The video below gives a preview of the book, The Person I Marry.
The Person I Marry from Bower Books on Vimeo.
The Person I Marry is part of the Bright Futures Books collection from Bower Family Books. It was awarded the 2010 Book of the Year by the Christian Small Publisher Association. Bower Family Books also publishes a variety of other book including a Thinking of Others series, and Little Lovable Board Books.

I was not the only Crew Member to review The Person I Marry. Visit the Crew Blog to read what my Crew Mates had to say about the book as well.
As an Independent contractor for The Old Schoolhouse and member of TOS Homeschool Crew I received a download copy of The Person I Marry for free from Bower Family Books, in exchange for my honest review of their product.