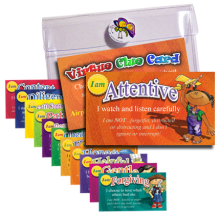 We Choose Virtues Cards $5.99
Age Range 3 –18
Part of the We Choose Virtues Character Development Program
Created by Heather McMillan
Available from We Choose Virtues
We Choose Virtues is a character development program. Each Virtue is introduced and a catch phrase is taught. This introduces kids to what the Virtues are and why they are important.The catch phrase is the core of the system. These are positive sayings that reinforce correct attitudes and actions. It also gives kids a reference point with which they can compare their actions and behavior. Antonyms are given at the bottom of the card to identify the behavior problem.
We Choose Virtues begins with a Family Character Assesment. This assessment helps all family members to think about their behavior and place it on a scale of 1 to 10. Then this assessment is completed periodically while using the program as a way to measure progress. A coloring book introduces each of the Characters associated with the Virtues.
The We Choose Virtues Virtue clue cards makes learning the virtues easy, both at home and while out and about. The handy pocket size and sturdy plastic case make these very easy to throw in the car or into a bag without being crumpled. Each business card sized clue card contains the Virtue being taught and the catch phrase along with a picture of the character that goes along with that Virtue.
We Choose Virtues clue cards are only a part of the We Choose Virtues Character Development program. Two versions of the program are available: Community (without Scripture) and Faith Based (with Scripture) Visit the website to learn about the program in its entirety. The program is also available for Jr. High/High School.
ClarkClan Thoughts
I used the We Choose Virtues, Virtue Clue Cards primarily with Rebekah, who is eight. As a way to introduce the cards and the characters to her, I gave her the coloring book I had printed from the PDF file. She enjoyed coloring the pictures and learning all the names.
I first attempted to implement the program by giving her a card with a virtue to work on for the day. This did not work out as well as I had hoped. Rebekah can be very stubborn. When I asked her if she was following the virtue on the card, she usually would throw a bigger fit and the whole thing would collapse.
I stopped using the cards for about 3 days, then took a different approach. This time I kept the cards. When Rebekah would finish a task, I would take out the cards that pertained to what she had done and present them to her. For example, when she finished her math I would give her the Perseverant card, the Obedient card, and the Diligent card. We would read them together, then I would tell her why I thought she fulfilled each of those qualities. I tried to remember to "catch" her throughout the day and let her know, with the cards, what virtue qualities she was fulfilling.
I was pleasantly surprised by Rebekah using the cards herself one Saturday morning. Rebekah has been learning to put her hair into a ponytail all by herself. She came into me and asked if her ponytail looked okay. I told her it needed more work, then went back to what I was doing. About 15 minutes later she came in and asked if her ponytail was better. I looked at her and told her "yes, it looks great." She got a big smile on her face and then pulled out from her pocket the Perseverant card. She said she was going to come ask me to help, but decided to keep on trying by herself.
I was very impressed with how much Rebekah began to enjoy using the cards. I am contemplating buying one of the Virtue Posters to implement the program on a larger scale in our home. I am also going to investigate the high school level posters to use in my high school Sunday School Class.

Want to read even more opinions about the We Choose Virtues program? Visit the TOS Crew Blog to read what my Crew Mates thought about the program.
As an Independent contractor for The Old Schoolhouse and member of TOS Homeschool Crew I received We Choose Virtues Clue Cards for free from We Choose Virtues , in exchange for my honest review of their product.