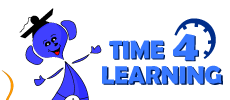 My kids are always excited when they can use the computer for some of their schoolwork. Time 4 Learning gave Ben and Rebekah the opportunity to use the computer a little everyday for both school and fun.
What is Time 4 Learning?
According to the Time4Learning Website:
Time4Learning is a technology-based online educational program that teaches preschool to eighth grade curriculum using a combination of animated lessons, interactive activities and reinforcing worksheets.
A top selection of the Homeschool.com "Top 100 Educational Websites" list year after year, the Time4Learning program has been refined through years of feedback from educators, parents, and students. The lessons are presented at the student's pace by an automated system in a sequence designed to build strong subject literacy.
Time4Learning is a great curriculum for families who homeschool. It is also a great after school skill sharpener and is often used for remediation and test preparation. Whether mainstream, gifted, or special needs, Time4Learning provides a flexible, student-paced approach.
Time4Learning includes the following:
Online curriculum for grades Pre-K through 8th
More than 1,000 interactive animated lessons
Self paced lessons that kids will enjoy working on
Math & algebra tutorials & printable worksheets
Language arts, phonics & grammar lessons
Interactive, project-based reading activities
Science (grades 1st - 6th) & social studies (grades 2nd - 7th)
Detailed reporting for easy record keeping
Extensive lesson plans & teaching tools for parents
and much more...
Time4Learning is web based, so there is no software to download, no CDs and nothing additional to purchase. Members can access the program 24/7 from anywhere with a computer and an internet connection.
The Subjects covered in Time4Learning include:
Math (Full Curriculum)
Language Arts ( Full Curriculum)
Language Arts Extensions
Science
Social Studies
Cost
Time4Learning is a monthly subscription of $19.95 for the first child and $14.95 for each additional child. To order, visit the website Time4Learning.
ClarkClan Observations
Time4Learning is such a complete, thorough program that it is almost overwhelming to me. There are many facets to the program. I will attempt to cover the parts of the Time 4 Learning program that we used.
When you sign your child up, you assign what grade level they are to work at. You can tweak the levels to customize for your child. For example, if your 4th grade child is at a 5th grade level in math, you can set the program at a 5th grade level just for that subject, keeping all the other subjects at the 4th grade level.
Each child has their own log-in. When they log in, they enter lesson time. Then they can pick which subject they would like to work on. The pictures below show the home page for the lower level (PreK-3rd) and the home page for the upper level (4th-8th).
When the student clicks on Lesson time, they are then able to choose which subject they would like to work. Arrows point the way to which lesson should be next. In general, the student works from left to right going from lesson to lesson. If they so choose, the lessons can also be done in random order. There are quizzes and chapter tests that record how the student is progressing. When an area of study has been mastered, a checkmark appears and the arrow points to the next lesson.
The lessons consist of various methods of teaching. At times the students read the lesson and then have a worksheet or activity to perform. At other times, there are videos the students watch to learn the lesson. During a lesson, there may be "worksheets" on the computer to complete. On these worksheets, the answers are checked immediately by clicking on the checkmark beside or underneath each question. This way the student knows immediately when they have missed something or gotten it right.
As a reward for the hard work of the lessons, the student's can visit the "playground". The playground is where many different computer games are played. A timer counts down at the top of the screen so a student only plays for a set number of minutes. There are many, many different games available to play.
Time4Learning also has a parent log-in. This is where parents can see how their child is progressing. Reports can be looked at to see the child's grade on each activity they have done. Certificates can also be printed out from the parent's page.
A parent can change the time your child spends on Time4Learning. As a default, your child must spend at least 15 minutes working on lessons before they can go to the playground. When at the playground, your child can only spend 15 minutes playing games. These times can be re-set by the parents to their preferences. For instance if you want your child to have to work for 20 minutes before they are allowed to visit the playground, you can set that. You can also set the time for how long they get to play at the playground.
ClarkClan Likes
Ben and Rebekah both loved the program. They were eager to do the work every day to be able to go to the playground. They liked being able to pick the subjects they wanted to work on first, next, etc.
Rebekah's grade level (3rd) made use of quite a few videos. She really enjoyed watching them. "The Old Time Word Show" was a big hit. I would see her watching the videos, then working on the worksheets and quizzes. By her scores, I could tell she was understanding what she was being taught. There were a few language arts lessons we had not gone over, such a pre-fixes, and after watching the video and doing the lessons she understood them.
Ben also enjoyed the lessons. He worked at the 4th grade level. He had no trouble with working on the computer and liked the mix of lesson activities. Ben also really enjoyed the playground. He would tell me about the different games he would play when it was time.
I liked that this was a full curriculum. While we primarily used this as a supplement to our school day, it is designed as a complete curriculum. I also liked that, as the parent, I could check on their progress from my own log-in. I could look up lesson plans, so I knew what they were working on and what was coming up next. Another feature of the program that caught my attention was the ability to change grade levels for each subject. This feature helps to customize the program for each child.
ClarkClan Dislikes
The one main dislike I had with the program was that some of the interactive features were noisy and frantic. This did not bother Ben and Rebekah, but it bothered me listening to the lessons with them.
Another problem we encountered, that I did not catch immediately was that to exit out of a lesson you must click an exit button at the bottom of the page not the x at the top of the page for the lesson to be graded. When I realized this I showed Ben and Rebekah and explained to them what they had to do.
Recommendation
I would recommend this curriculum. My kids enjoyed it and learned from it. My only caution would be to parents, check your child's work frequently so you can see how they are doing. I found it a little too easy to just assume they were doing well and not check up on them for days at a time.
Visit the Time4Learning website for more information about this curriculum. You can also go here to sign up for a free demo of the product.

I was not the only TOS Homeschool Crew member to review Time4Learning. Click on the Crew banner above or here and you can read what my Crew Mates thought of the program.
As an Independent contractor for The Old Schoolhouse and member of TOS Homeschool Crew I received a 30 day trial of Time4Learning for free, in exchange for my honest review of their product.