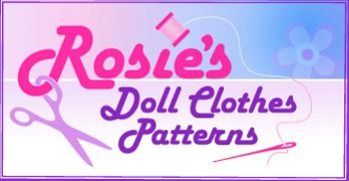 Designed for ages 8 to adult
Learn to make doll clothes-Video Course
Over 130 step by step instructional videos
includes 8 free doll clothes patterns
$47.23 (Australian prices, exchange rate may vary)
Doll clothes. Fun to make? Or too tough with too many fiddly little bits to deal with? Most of the time, doll clothes are not the easiest thing to sew. The seams are tiny and hard to maneuver through the machine. Doll clothes can make even experienced sewers cringe.
Rosie's Doll Clothes Patterns work hard to change the idea that doll clothes are hard to sew. Roseanne, called Rosie by her friends, has been sewing since she was 8 or 9 years old. She began by sewing doll clothes for her own dolls, now she sews doll clothes for her own daughter. After lots of frustration and trial and error, Rosie discovered many secrets to sewing doll clothes. She threw out what she knew about sewing clothes for adults and figured out many different tips, tricks, and shortcuts for sewing clothes for dolls.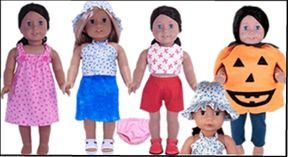 About the Course
Rosie has created a course filled with over 130 helpful videos to teach others how to create simple, yet beautiful clothes for dolls. This course teaches sewing from the very beginning.
The main course is six weeks long. This is much more than just sewing doll clothes, but is also a great learn to sew course. Videos detail different ways to set up your sewing room, introductions to how different sewing tools work, fabrics, notions and much more. "Cool Tips" videos are tips and tricks for making sewing a lot easier and more enjoyable. Trouble shooting videos help by describing trouble spots and how to fix them. At the end of the six weeks, you will have learned much more than just sewing doll clothes, but will have an arsenal of great sewing advice.
Along with the learn how to sew videos, Rosie's Doll Clothes Patterns include eight free, downloadable patterns for 18 inch dolls. These patterns are great for practicing all the skills learned in the video course. Along with each pattern, a full array of videos detailing each step of sewing is included.
ClarkClan Experiences
We had a great time with this review. I watched all the videos, learning many new things along the way. I have been sewing for many years and was surprised to find that I really enjoyed watching Rosie's videos. Maybe it was the delightful Australian accent, but I found Rosie easy to watch and informative.
I watched Rosie use a few tools that I never thought I needed, but have decided that I really could use them. One of these was a "looper". This tool looked very handy while Rosie was demonstrating how to use it. I liked the way that Rosie demonstrates how to use each tool.
The videos were very well shot. I liked the steady camera angles. Everything was easy to see and understand. Each video stuck to the point and kept on topic.
When making up the patterns, the instructions were very well written. They were thorough and detailed, great for beginning sewers. Videos that showed each step being performed were also a huge asset. If a step did not make sense or if I wasn't sure if I was doing it right, I could just click on the video for that step and watch exactly how to complete it.
My sister and I got together and spent an afternoon sewing up the patterns. What we found was that they were easy to use and super cute. We let the girls pick the fabrics and help with some of the cutting and sewing. One thing we noticed about the doll clothes we made were the ease of getting them on the dolls. These clothes were cute,. but also easy to put on the doll.
When the patterns are printed off on your home printer, some of them need to be glued together. This is extremely well marked making them easy to put together. Through watching Rosie using her rotary cutter to cut out the pattern pieces, I decided to try using mine that way. This is new for me, I always use shears when cutting out patterns and a rotary cutter for quilts. I was pleasantly surprised to find that a small rotary cutter works very well when cutting out patterns.
Recommendation
I would recommend Rosie's Doll Clothes Patterns for both learning to sew as well as a more advanced sewer. We have made beautiful, fun doll clothes that the girls are very excited to use. The only thing that may need to be watched is some of the different language between Australia and the United States. For example, in the costume pattern, wadding is called for. Here in the United States, that is called batting. There are not too many of these little idiosyncrasies, but just something to be aware of.

Many of my Crew Mates also reviewed Rosie's Doll Clothes Patterns. Visit the Crew Blog to read what they thought about the program.