God's World News is a resource used to teach kids about the world around them from a biblical perspective. It is a current events news magazine featuring world events. Science, social studies, geography, religion all are explored through real life news.
Each issue of God's World News is packed with age-appropriate stories, activities, puzzles and full color pictures. Starting in News Current, the 5th-6th grade level, vocabulary practice and comprehension quizzes are included.
From Pre-K through Middle School a MAP- IT! world wall map is included in the September issue. In each magazine, articles will include a locator map that corresponds with the wall map to teach kids where in the world the news is happening.
Web Access enlarges the learning of God's World News. Web access includes extras such as biographies and extra lessons based on certain stories in that months issue. Quizzes for the lessons and biographies help teachers test students comprehension.
God's World News produces six different news magazines for preschool through high school.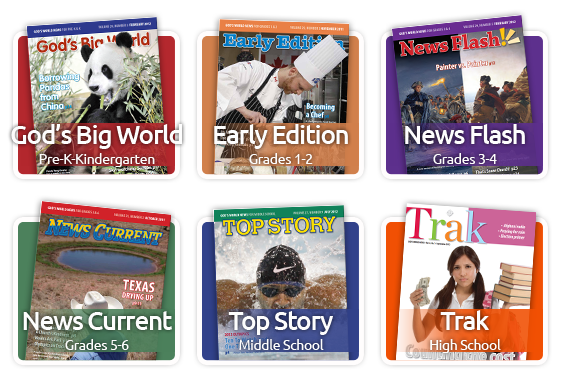 God's Big World – Pre-K –Kindergarten
Early Edition – Grades 1-2
News Flash – Grades 3-4
News Current—Grades 5-6
Tops Story – Middle School
Trak – High School
Cost
A full year- 10 month subscription costs $28 per magazine.

A group subscription (must be mailed to the same address) is 7 issues (school year months) and costs $21.
Full-year subscriptions include 10 monthly issues (every month except December and May).
School-year subscriptions include 7 monthly issues (September-April)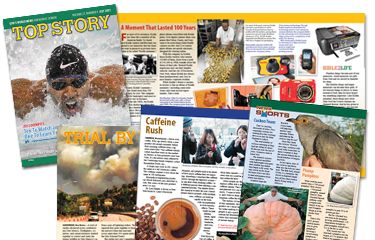 ClarkClan Experiences
God's World News is a favorite activity at our house. We enjoy reading through the news magazine together, discussing the articles and mapping the countries we are reading about.
We were given the August and September issues of Top Story to review. A short synopsis of the August magazine will give an overview of the content contained in the issue.
August: The main story in this issue is called "Sign Cutting on the Border" written about US Customs and Border Protection agents. The article discusses how, even though high tech equipment is in use, old-fashioned sign cutting is still the main way the Border Patrol counts the number of illegal immigrants come over the border. High tech tools are discussed in a side bar. Bible 2 Life brings scripture study based around tracking both in real life and using the same skills to apply to God's word.
Another large article is called Wildfire Tragedy. This sensitively tells the tragedy of 19 firefighters dying this summer in Yarnell, Az.

An article on "Lift" as it applies to flying is a multi-disciplined learning lesson. This includes lessons on technology, history, current events, and the bible.

News Shorts discuss commerce at Gettysburg, an auction of old Apple computers and a man who received his high school diploma at the age of 97.
Biographies
We enjoy biographies and have had a good time reading the biographies included as web extras. For the month of September the biographies were about Jane Austen and Hank Aaron. We read these out loud from the computer, but an option for printing them out is available. The biographies consist of an article to read, Bible to life study, and a quiz to test comprehension. We generally did the quizzes out loud.
Another part of the web extras include extra lessons based on two of the articles in the monthly magazine.
The entire magazine is also available on line as part of the extra web features.
Favorites
Each God's World News Favorite Features from the kids
In Toon: Ben really liked the political cartoon feature. He would look at the cartoon and then read the explanation. As a mother, I thought this was a great feature as sometimes it is hard to explain what a political cartoon is and what the meaning behind it is. This feature teaches how to analyze and understand this difficult aspect of the news.
Map-It!: Rebekah is a map girl. She loves to find places on a map. So the Map-It! feature is a favorite of hers. She would look at the small Mat-It! box on certain articles and then we would go to the World Map and find it on there.
Recommendation
I would highly recommend God's World News. Our family has a long history of using this product at various age levels. We have enjoyed it in the past, and are greatly enjoying it again as a review product. Ben and Rebekah enjoy learning about what is going on the world, and I like that it is at a level they can understand.

All levels of God's World News were reviewed by the Schoolhouse Review Crew. Visit the Crew Blog and read what others thought of this news magazine.