The Most Fun You'll Ever Have Learning Fractions!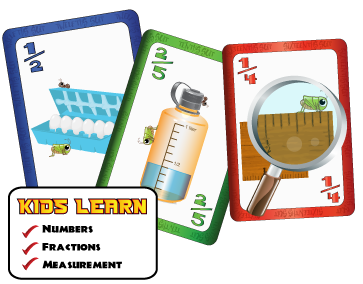 Fractazmic makes learning fractions and equivalent fractions fun.It is designed for 1st through 8th grades, but is fun for all ages. I was skeptical the first time we played it, but thanks to the cute little pictures on the cards, found that the game was easy to learn to play. While it may have been easy to learn , it was challenging enough to be fun to play. Sarah (14) and Ben (10) and I (mom) were the ones who played the game the most. The more we played, the better we got at looking at the fraction numbers and not having to rely on the pictures quite so much. My kids found that this made a great game to play during lunch or snack time.
Each "suit" on the cards is based on a different fraction. There are the Sixteenth's suit (red in color) a Twelfth's suit (blue in color) and a Tenth's suit (green) in color. Within each colored suit, the cards can be combined multiple ways to make a "hand" equaling 1. Our family had a great time playing this game, and you can be sure that when someone announced they had made a "whole", their cards were thoroughly checked out to make sure they didn't miss count.
The ClarkClan evaluation is that this is a cute, simple to learn, fun educational game. The same company that produces the Fractazmic Cards also produces other card games. Pyramath is an award winning math game using all the basic concepts: add, subtract, multiply and divide, in a comprehensive, interactive game. Prime Bomb is another math related game reinforcing, prime, multiplication and factoring.
Visit Fractazmic.com to read more about the game and be able to order it. The game is $6.95 for the 60 card deck. To get a feel for the game you can play a speed version of the game at Fractazmic speed version. Playing online also gives you a chance to win a free deck.
Visit the Crew Blog to be able to read what my Crew Mates thought of this game. Check out to see if they enjoyed playing as much as we did.

As an Independent contractor for The Old Schoolhouse and member of TOS Homeschool Crew I received Fractazmic game for free from I See Cards, in exchange for my honest review of their product.